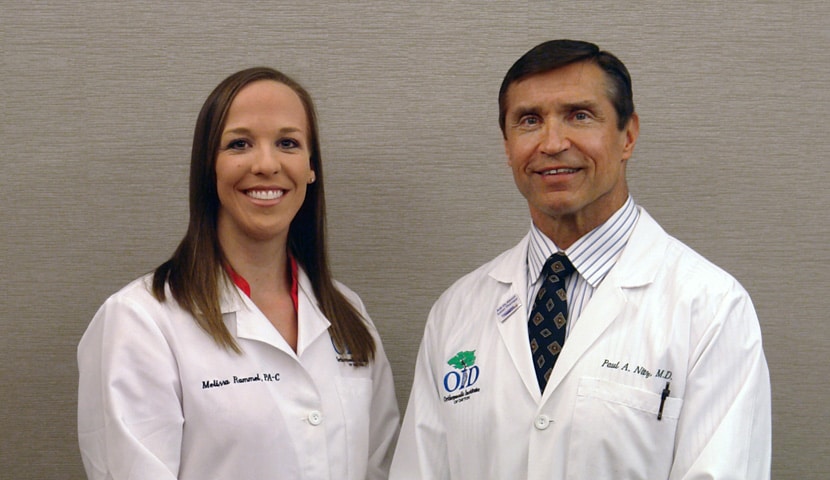 Paul A. Nitz, M.D.
Melissa Rammel, PA-C

Advanced Orthopaedic Solutions for Knee and Shoulder Injuries — On or Off the Field
When top local athletes injure a knee or the shoulder, many are quick to seek the expert orthopaedic guidance of Dr. Paul A. Nitz. Fortunately, you don't have to be a superb athlete to benefit from his more than three decades of experience.
Whether your sports equipment of choice is a football, golf club or TV remote, Dr. Nitz applies his extensive knowledge to end the pain, heal the injury and get you back in the game. He provides effective treatment using the latest procedures, including musculoskeletal laser and a variety of arthroscopic techniques.
Although he specializes in injuries that affect knee and shoulder joints, Dr. Nitz has treated numerous conditions that involve every type of joint, bone, tendon, ligament, muscle and nerve. He believes in the importance of making the diagnosis and then recommending appropriate treatment based on the natural history of that diagnosis as well as the patient's symptoms and goals.
If a surgical solution is necessary, Dr. Nitz frequently uses arthroscopy, which involves the use of a surgical tool tipped with a tiny camera that is inserted under the skin through a small puncture incision. This outpatient procedure is highly effective, and provides benefits over similar procedures performed with an open exposure of the joint.
Dr. Nitz honed his surgical skill in the U.S. Army where, as a Major, he served as chief of orthopaedic surgery at Reynolds Community Hospital in Fort Sill, Oklahoma. He has accumulated years of real-life sports medicine experience as primary team physician for Cedarville University and Central State University's athletic departments, as well as for local high school teams. If there is a way a knee or shoulder can be injured, he's seen it — and successfully treated it.
Dr. Nitz learned many complex procedures from the specialized fellowship training in sports medicine that he received from Dr. Donald Shelbourne, team physician for the Indianapolis Colts and an orthopaedic consultant to Purdue University. He has been honored for his sports medicine expertise by being chosen for the Hall of Fame of Central University's athletic department and Ohio High School Team Physician of the Year.
Dr. Nitz has access to the most advanced imaging technology, and serves patients at various office locations and Sycamore Hospital and Greater Dayton Surgery Center.